News & Agenda
The whole Caravelair team wishes you a Merry Christmas
7 YEARS WATER INGRESS WARRANTY*
THANKS TO AN EXCLUSIVE CONSTRUCTION TECHNOLOGY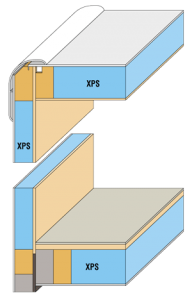 POLYESTER (GRP) TECHNOLOGY
Greater resistance : Rot-resistant and non-porous, GRP eliminates any risk of rusting. Upgraded Resistance to impacts, scratching, as well as storms in general and hail in particular.
Easier upkeep : Sturdy and easy to clean. In case of accident, polyester is also easier and cheaper to repair than aluminum.
Better insulation : More flexible than aluminum, polyester provides better absorption of noise from rain or hail and is more effective thermally.
---
XPS INSULATION
Extra-firm foam that provides effective soundproofing and thermal insulation and outstanding durability
*Subject to an annual check-up visit at one of our certified dealers
Practical caravan – Review Antares 476 (2017)

"This is a van that will suit an active younger family who like to spend plenty of time on the Continent and outdoors, but who want the luxury of flopping into a made-up bed after a day of action and adventure."
Read more
Practical caravan – Review Antarès 335 (2017)

"Exciting new caravans always turn heads, especially when they are so light and priced under £12,000! So don't miss our Caravelair Antarès 335 review"
Read more
Relaxation and sleep are essential to enjoy holiday. That is why CARAVELAIR developed a new mattress using the latest technologies used in the bedding market.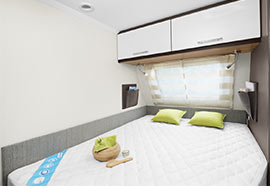 Anti-dust mite : anti-dust mite mattress cover
Made in France : 100% manufactured and assembled in France
Certipur : ensures compliances with safety, health and environment regulations in foam mattress production
Oeko-tex class 1 : mattress covers manufactured without harmful substances to health and skin
XL FREEZE, XL cooling, XL efficiency, XL Design!
XL Cooling Efficiency!
From 15°C to 0°C in only 15 minutes!
Cooling guaranteed up to 43°C outside temperature!
Energy Efficiency: Energy class A+ thanks to the Isotherm® insulation.
Effective cooling on travels, also during stops!
The XL Freeze runs on 2 possible energy sources: the car battery or the (optional) leisure battery.
Short break: (less than 3 hours): the caravan remains attached to the car; you can enjoy fresh food coming directly out of your XL Freeze, powered by your car's battery.
Longer stop (over): Your food & drinks stay perfectly cool, without interruption, even under repeated opening of your XL Freeze, thanks to the regular energy supply of your (optional) leisure battery.
After a good night's sleep, you can continue your journey and arrive at your destination with perfectly cool & fresh food & drinks, ready to be served!
An exclusive & highly practical design!
But where is the fridge? It's in the completely integrated drawer in the
kitchen unit!
Immediate overview & access to all provisions.
A total capacity of 150 L with 19L freezer.
Flexible disposition with mobile dividers and various easily removable balconies.
3 bottle holders to keep your drinks at the right temperature.
A vegetable basket, a meat tray, storage for eggs…everything you need!